So, you've taken a look at your ad ops workflow, or perhaps even calculated your team's TTR, and have decided to do something about it. That's a good start, but developing a better process involves answering some other key questions:
How do I quickly find and fix issues with my campaigns?
How do I establish a collaborative reporting process?
How can I stay on top of how my campaigns are pacing and overall delivery?
How can I easily monitor and track 3rd-party discrepancies?
How do I demonstrate the value of the optimizations I'm making?
We developed DV Publisher Suite to answer these questions and provide a lasting solution that can evolve with the industry and scale with your media operations. Campaign Delivery Insights enhances collaboration and prioritization, eliminates the need for spreadsheets and ad hoc solutions, and makes data navigation an intuitive, visually-pleasing activity.
Automate your data foundation
We've used our knowledge and industry experience to provide you with an automated and resilient data foundation with our proprietary D-FIT technology.
To start, we remove the manual component from all data prep tasks. Downloading, cleansing, matching, and prioritizing are all automated for you so you can skip right to resolving high priority issues.
Collecting reports: Automatically pull from integrations across any publisher or agency ad server. No more chasing logins or reports. Get the data you need to monitor every single impression, successfully negotiate discrepancies, and finetune your campaign performance.
Matching & normalizing: Relate publisher creatives to agency creatives through our exclusive D-FIT engine. Correlate and connect across all your campaigns in order to accurately organize, execute, monitor, and report from start to finish.
Analyzing reports: Lay out comparison reports between your publisher and agency ad server data without having to create time-consuming pivot tables. Maintain accurate numbers with automated, always-available reporting.Billing reconciliation: Monthly reports and automated billing gets you paid quicker and easier through direct OMS connections.
This frees you to come in and look at an intuitive roll-up of all of your campaigns, already prioritized, allowing you to drill into the most pressing data while still keeping an eye on the big picture. The communication tools within Campaign Delivery Insights make it easy to quickly escalate what's important and collaborate with teammates to resolve issues efficiently. A reliable and standardized data set keeps everyone on the same page.
Turn your workflow on its head: Stop prepping data, start solving problems.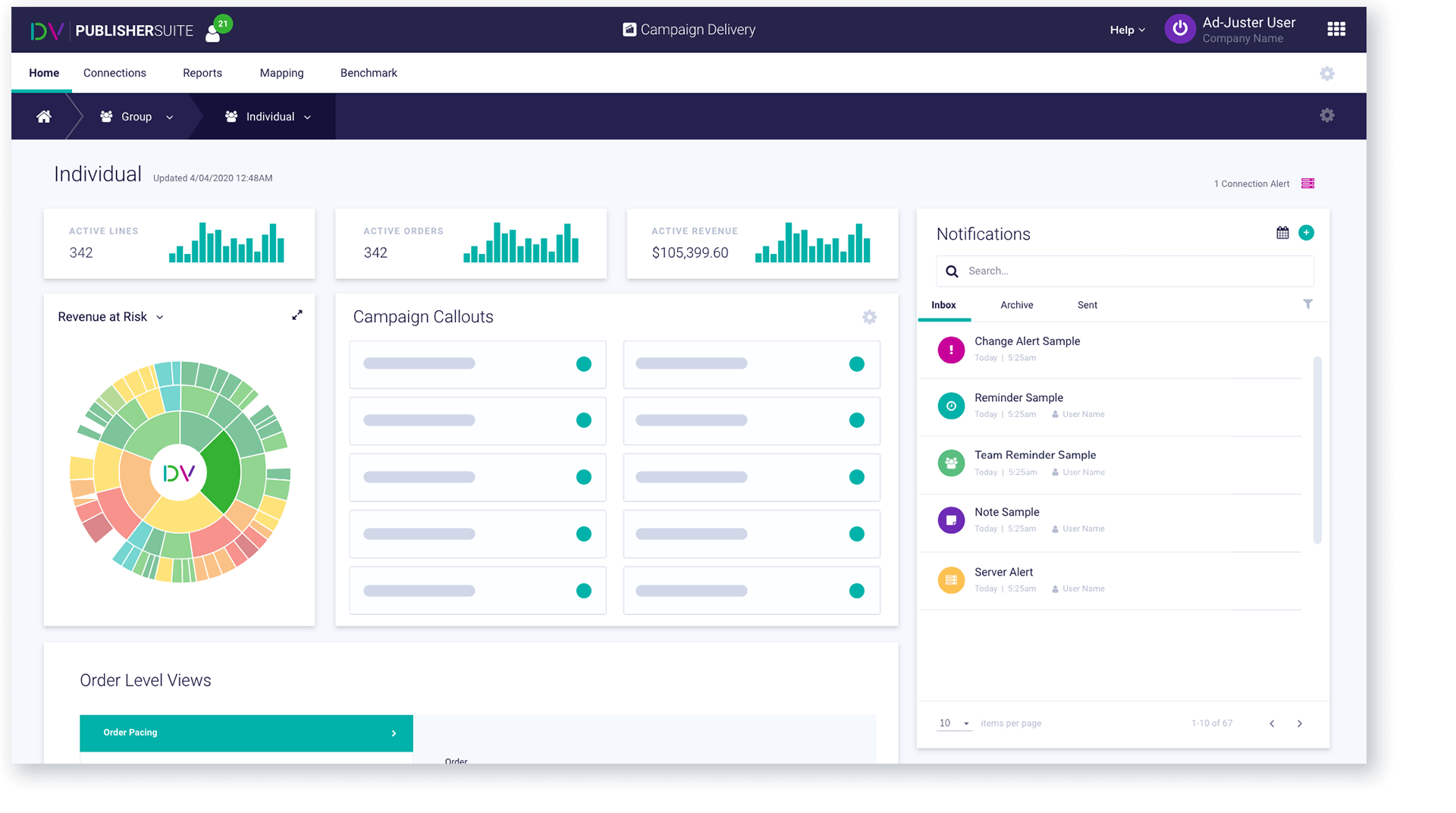 Enhanced Collaboration
Categorizing users delivers the right data faster and each user can manipulate data according to what they need.
Multiple roles can be involved simultaneously for comprehensive input and awareness and solutions. No more siloed data.
In-platform alerts and reminders allow you to quickly react to high-priority requests and stay on top of changes and optimizations.
Intelligent prioritization
Easy-to-navigate dashboards bring campaign problems to the user instead of the user having to search through endless, chaotic data—identify patterns, trends, and the root of problems with speed and ease.
Issue prioritization by discrepancies, pacing, & revenue at risk.
Weekly, monthly, & custom-range performance reports.
Daily Discrepancy Reports pinpoint under- and over-buffered line items, allowing you to hone in on optimal pacing and respond faster to highly discrepant partners.
Data Callouts conveniently placed on the dashboard quickly alert you to top level KPIs like lines, orders and revenue.
Track viewability with ease and accuracy. Convenient reporting of ad-quality vendors houses all your viewability metrics in one place.
So, what does this mean for your team and your bottom line?
On average, publishers that implement Campaign Delivery Insights see an improvement in productivity of 40%, and recapture 25% of their revenue at risk. Continuing with our XYZ Publisher example, you can see that the results are tangible: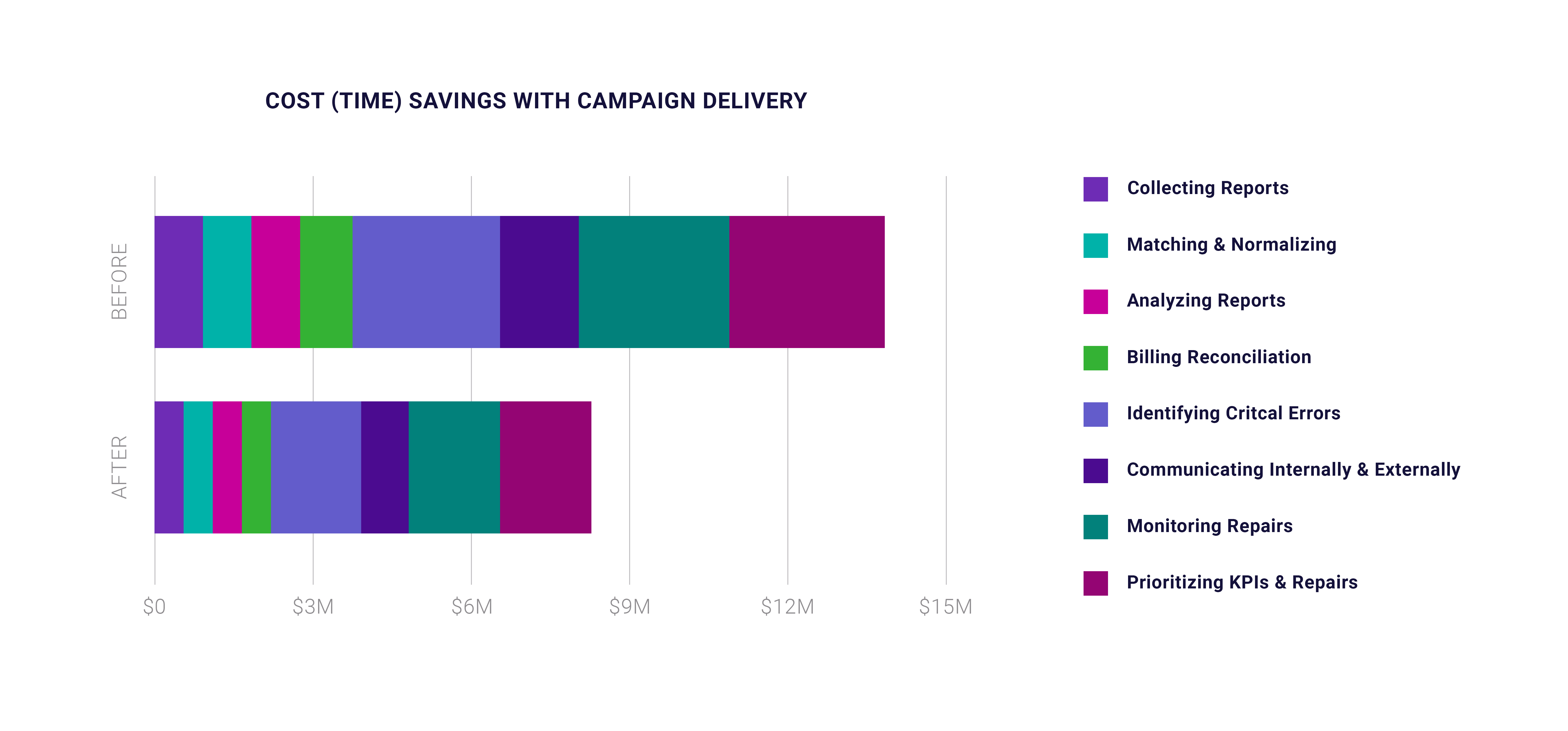 Annually, at $100M in revenue, XYZ Publisher saves $1.6M in labor cost and is able to recapture $5M in revenue, adding a total of $6.6M back to their bottom line.
Performance issues are guaranteed due to advertising complexity, but huge improvements can be made in the way they are identified and resolved. The industry has unique relationships and data requirements that negate the effectiveness of general business intelligence tools. Therefore, a better workflow solution must account for these distinctive elements and integrate with each publisher's organizational structure and workflow.
The DV Publisher team has been in the business of developing data solutions for advertising operations for over 10 years. We have witnessed the explosion of ad servers and data sources, as well as the increase in ad product and delivery complexity. Campaign Delivery Insights is the cumulative result of feedback from, and a close working relationship with, the top publishers in the industry.
Request a demo today to learn more about how DV Publisher Suite can help your organization.