Optimization is time consuming. From both a campaign and overall revenue perspective, teams need to ingest and analyze large amounts of data before they can begin the work of tweaking their targeting and delivery strategy. The reality is that every team is strapped for time and resources. What if there was a way to add more automation into this process?
Enter Quality Targeting, a tool that gives publishers more control and reduces the Time To Resolution (TTR) by automating key optimization tasks. Enabled by holistic measurement and analytics in DV Publisher Suite, Quality Targeting makes yield optimization quicker and more painless. Here are a few ways that teams are using Quality Targeting to streamline their workflows, reduce friction with buyers and maximize revenue.
How to Maximize Ad Quality and Delivery Based on Advertiser Requirements
Various forms of ad quality have a large impact on ad performance and align with key advertiser goals in most campaigns. The more confident buyers are in the quality of your inventory, the more willing they will be to launch campaigns on your owned and operated properties. Rather than aiming for key quality metrics and requirements in the dark, Quality Targeting unlocks automated delivery based on page- and slot-level signals.
Brand Suitability Requirements
Publishers can more easily align with advertiser objectives in regards to contextual classifications as well as brand safety and suitability. Place the right advertiser next to the right content and avoid instances of blocking or avoidance caused by misaligned ad delivery.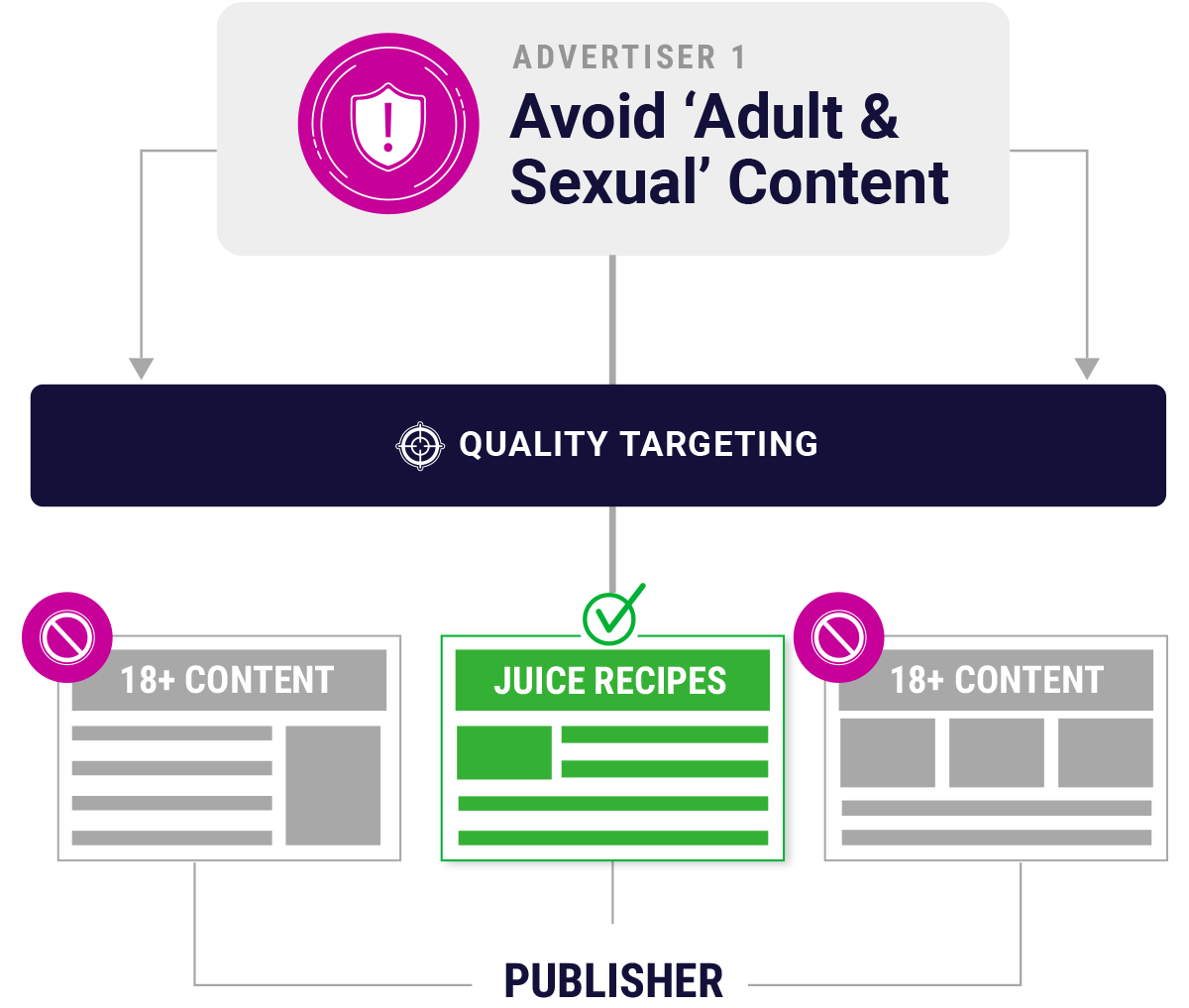 EXAMPLE: The advertiser is sensitive to adult & sexual content and wants to avoid serving impressions on pages classified as 'Adult & Sexual'. In response, the publisher uses Quality Targeting to set a signal that automatically ensures that this advertiser won't have ads served on that type of content, saving optimization resources for other tasks.
Invalid Traffic (IVT) Avoidance
Ensuring that ads are seen by humans is a vital KPI for advertisers. Eliminate waste and improve overall campaign performance by eliminating impressions flagged as IVT before ads are delivered.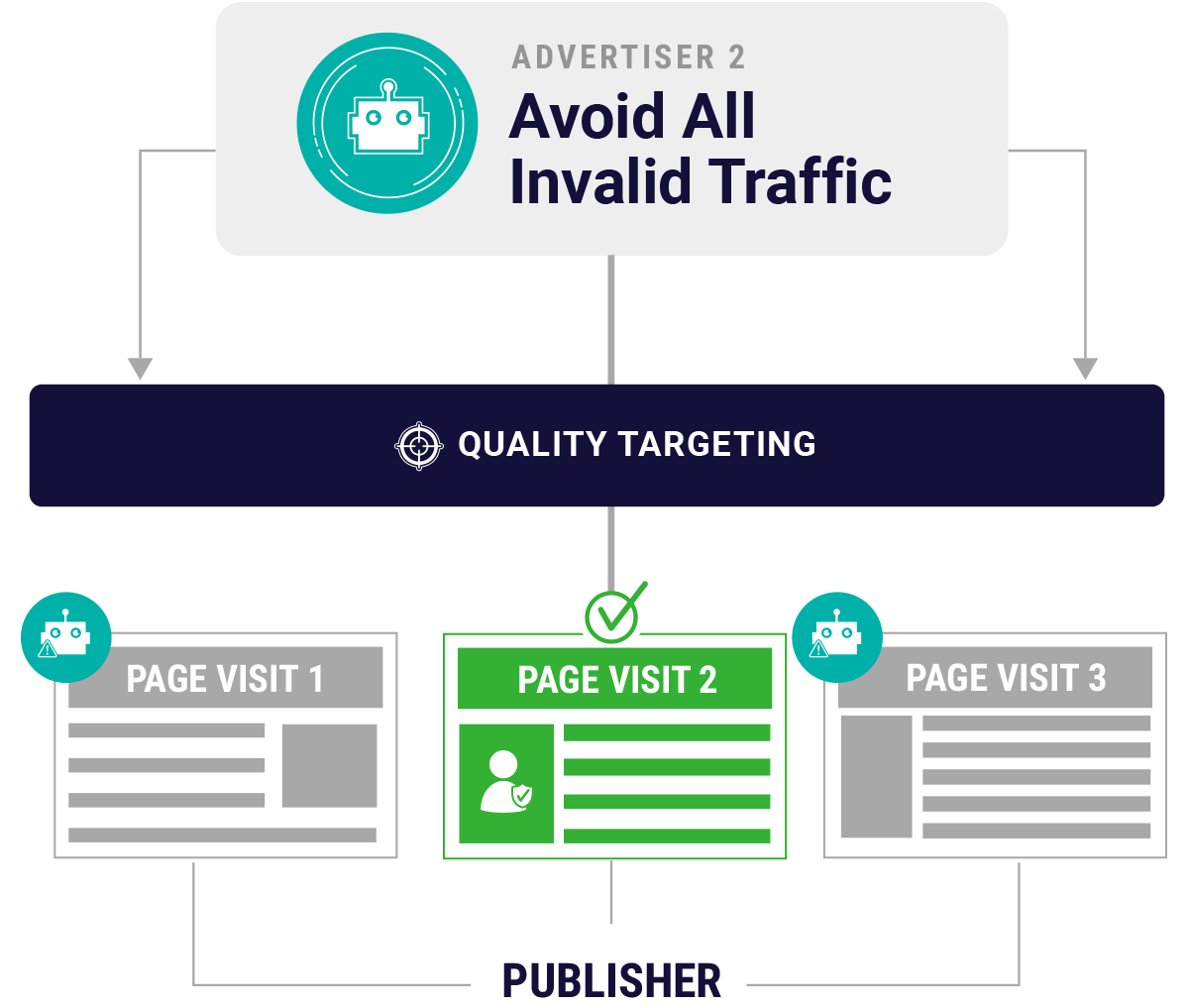 EXAMPLE: This advertiser has very strict requirements regarding the rate of IVT traffic on its campaigns. With this information, the publisher utilizes Quality Targeting to set up a signal that redirects any fraudulent impressions to a house ad instead of this advertiser's creative based on DV's MRC-accredited detection methodology. This outcome reduces friction and improves trust between the advertiser and publisher.
Viewability Prediction
Align with advertiser viewability expectations pre-delivery rather than finding out after campaigns are completed. Quality Targeting helps teams maximize viewability and reduce the need for cumbersome makegoods.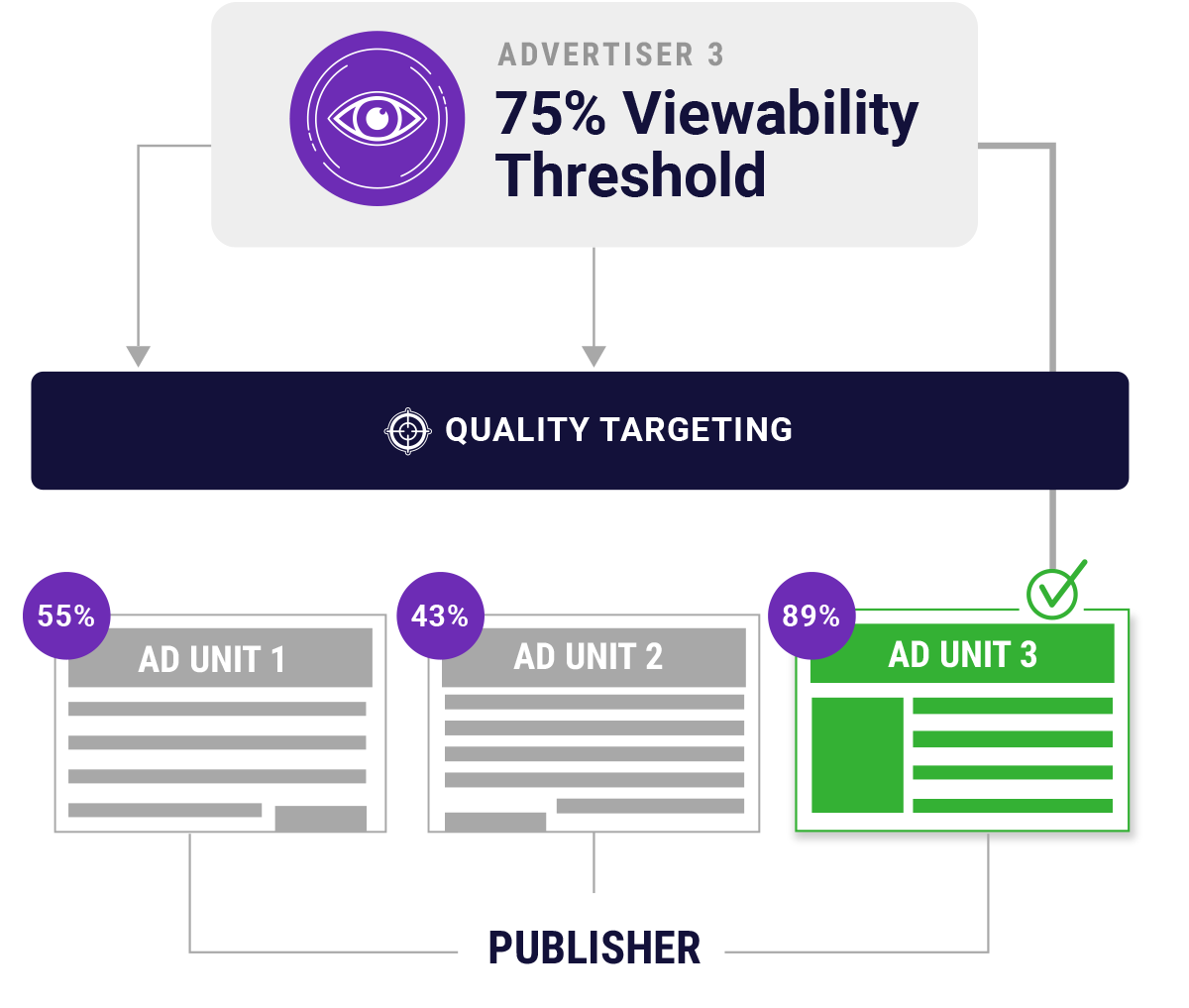 EXAMPLE: This publisher works with advertisers that have a 75% viewability threshold for their campaigns. Based on DV's predictive algorithms and IAB measurement standards, they automatically target inventory that has the highest likelihood of reaching those viewability guarantees. With Quality Targeting, This publisher also gains the ability to sell packages that guarantee minimum viewability rates without needing to micro-manage placements manually.
Contextual Categories and Positive Targeting
While brand safety and suitability involves a brand's avoidance of content categories, Quality Targeting enables positive targeting based on contextual categories that advertisers want to be seen alongside. DV research learned that 69% of consumers would be more likely to look at an ad if it was relevant to the content they were reading, making this advertising highly effective.
RELATED: Publisher Survey Shows Advertisers Want Contextual Packages, Targeted Lead Generation and Content Marketing Opportunities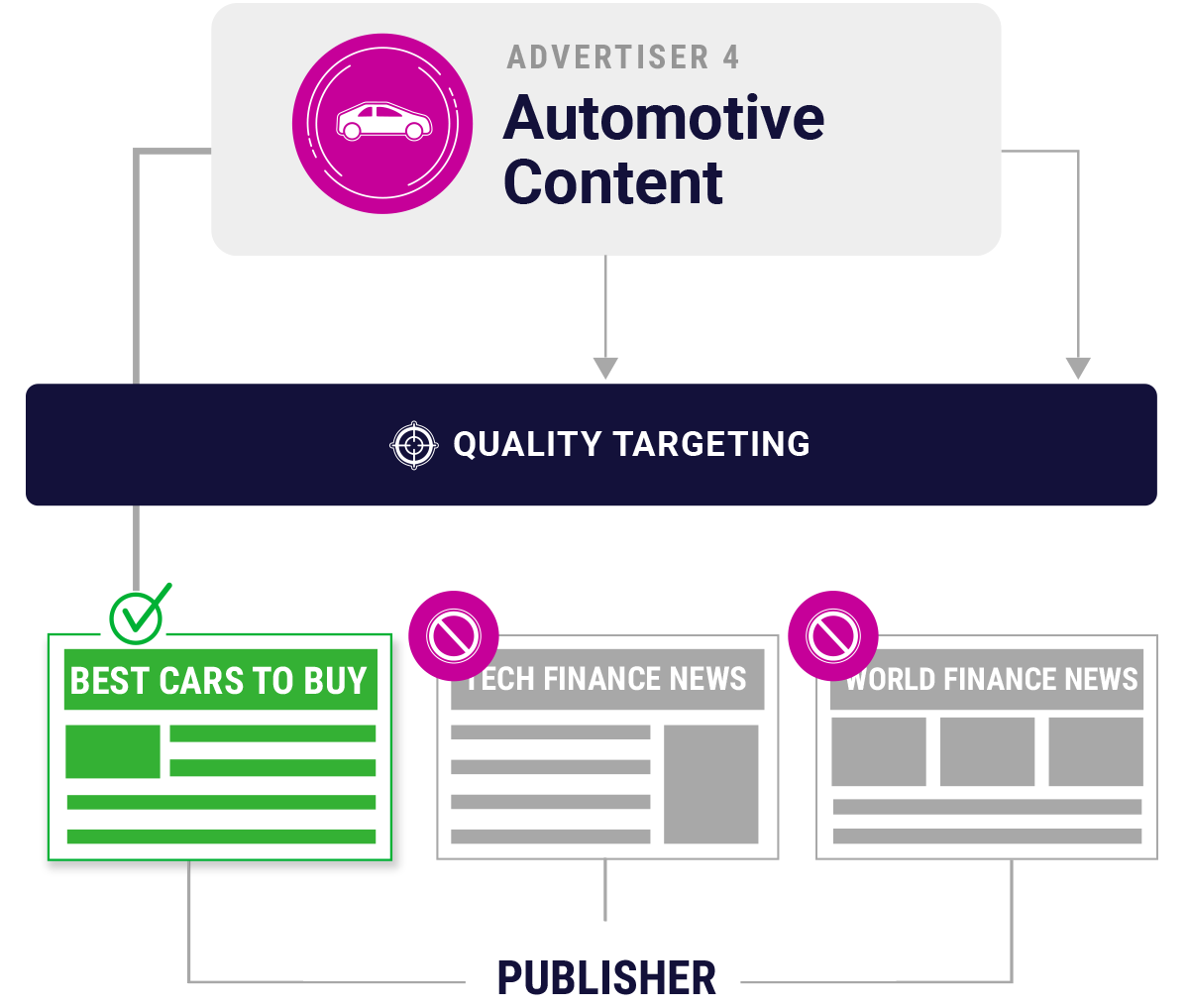 EXAMPLE: This advertiser is an automotive brand looking to reach audiences that are engaging with automotive content.  The publisher covers all forms of finance news, including content about the automotive industry. Using Quality Targeting, Publisher B automatically delivers this advertiser's creatives on the content that is classified as 'Automotive', giving those ads contextual relevance without the publisher needing to decide on these placements manually.
Publishers using Quality Targeting are using it as a first line of defense to improve their delivery and protect their reputation with buyers. Interested in learning more about Quality Targeting? Request a demo today to get a full walkthrough.