The stakes in ad ops keep rising. Complexity and innovation are driven by the demand-side, and media quality metrics are playing a key role in contracts and billing. Publishers have historically kept up by inventing new workflows and chasing new data sources without time to think strategically about ad products and organizational structure.
With such a busy day-to-day, there is little time to proactively communicate with agencies and advertisers about revenue-generating activities like creating innovative ad products, optimizing campaigns, and testing more effective buying strategies. Instead, publisher ad operations are left rushing to meet new demand, worrying about campaign under-delivery, and struggling to maintain a reliable workflow.
Yesterday's resources are stretched too thin to keep up with today's demand. While DV Publisher Suite has been built to prepare publishers for these challenges, we must first understand the day-to-day process of issue resolution that's slowing teams down.
Where do the hours go? Battling in the trenches

Resolving issues consumes the lion's share of your team's day so it's important to breakdown each step of the process:
Collecting reports: Track down logins and pull spreadsheets of data from local, 3rd party, and 4th party (viewability, demographics, etc.) servers—in some cases, this may involve 10 or more data sources.Matching & normalizing: Get all of this disparate data into a single excel file using whatever manual process—pivot table, vlookups, etc.—to match up creatives from 3rd and 4th party servers to local servers. This may require matching 50,000+ line items.Analyzing reports: Filter and sort the original campaign data sheet, hoping no errors were made, and look for discrepancies or other issues. Dissect the data and prioritize the most pressing problems for the day.Identifying critical errors: Take your prioritized issue list and investigate possible causes.
Double check your reporting for missing data (forgot to pull a report, different time periods).
Look for multiple tags for the same publisher placement, tag data from 4th party instead of 3rd party, check audit history in your local server for updated tags.
Make sure the same tags are running on your local server as on the 3rd party server by matching ad IDs.
Audit large files that increase load time.
Check intermediaries/4th parties, like ad verification systems, that can block an ad call between systems.
Communicating issues internally & externally: After issues have been prioritized and possible causes identified, communicate this info internally to the right members of your team and/or externally to the agency or advertiser along with all relevant data to explain the situation.
Confirming and monitoring repairs: Once a resolution strategy has been agreed upon and documented, check that the change has been made and that it's reflected in the delivery data.
Prioritizing KPIs and repairs: Top KPIs and related priority-repairs may be part of a campaign kickoff discussion with the advertiser, and may change later depending on the goals of the publisher. A supervisor will need to manage workflow and bandwidth of the team relative to a fluctuating workload. Establishing these will immensely help publishers achieve client and revenue goals.
Billing reconciliation: Make adjustments to lines or campaigns based on billable metrics (usually referencing 3rd or 4th party) and prepare the reports for upload to a billing system and/or share with the advertiser or agency.
Looking at the entire picture, you can see there are a lot of intricate steps that can't all be done by one person. This is very difficult to manage manually with spreadsheets, shared docs, and ad hoc solutions—it's a complex endeavor and fraught with errors.
However, like it or not, this is how you and your team spend most of the hours each day; and worse, the associated labor cost eats away at all the hard work you've done to drive revenue for the company.
How to use TTR to measure your workflow inefficiencies
Getting out of the trenches and winning the war starts by knowing how much time the entire process of issue resolution, above, takes your team. We've come to measure this with something called Time To Resolution (TTR). TTR reflects the efficiency of your team and the service cost of successful campaign delivery. From our over 10 years of experience with large publishers, we've found that this is around 7 hours a day per person (which is why a 40-hour workweek in ad ops is unheard of).
The importance of tracking your team's TTR is best illustrated with an example: let's imagine the fictional XYZ Publisher. They are a comScore Top 50 publisher and do $100M in direct-sold revenue. From our experience and industry analysis, we know that this requires, on average, 147 people combined in ad ops, account management, sales, and supervisors.
If we assume an average hourly wage of $45/hr and a team of 147 people, the annual labor cost comes out to $13.7M/year; illustrated below.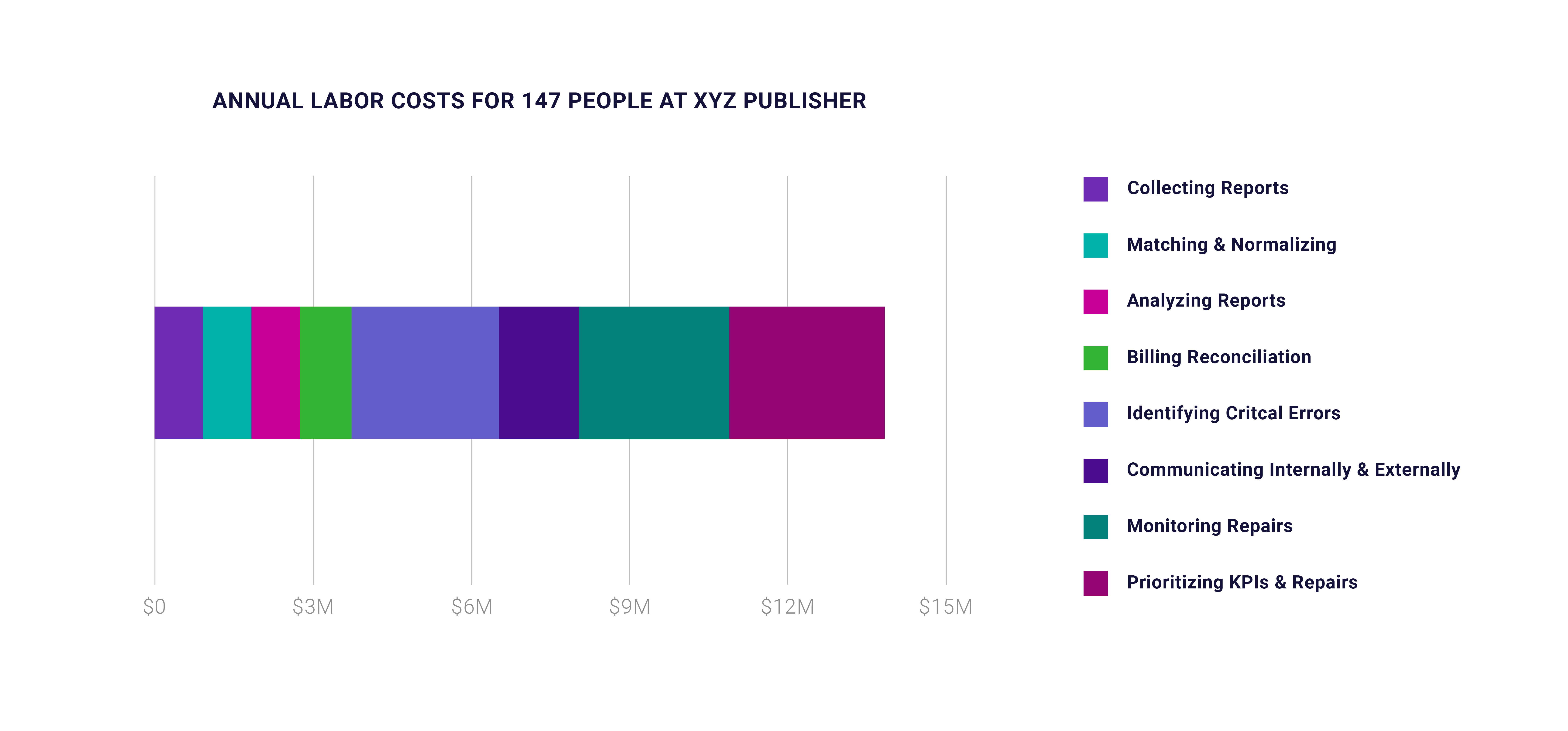 We knew there was a large pain-point here, and an opportunity, because we saw that clients were attempting their own internal solutions, like trying to attach a general BI toolkit onto their data lakes, and hoping that this would provide an organized data platform. However, many have struggled to deliver the basics—organizing the data—and are caught off-guard by the long-term maintenance and engineering commitment that isn't in the wheelhouse of a media business. As mentioned earlier, digital advertising is only growing in complexity, leaving publishers in a state of constant catch-up.
Additionally, we saw that TTR could be decreased by developing a better workflow that focused on improvements to collaboration and prioritization. We asked industry professionals their opinions of the resolution process.
Our survey revealed some surprising pain points. 89% of those surveyed said data collaboration is a priority in their role. However, only 22% were satisfied with support from their team to get the data they require. 88% admittedly did not have the time to prioritize troubleshooting and optimization. And finally, 73% stated that they do not have the right data to quickly prioritize their tasks.
Clearly, there's a need in the industry for a better process, but analyzing your team's TTR is the first step in making meaningful organizational changes. For a better idea of what those changes look like, read up on ways to simplify your ad ops workflow. Contact us to learn more about how DV Publisher Suite is helping ad ops teams improve their analytics workflow.