In ad ops, it's important to ensure your campaigns are pacing on schedule. You're probably keeping an eye out for delivery issues, revenue at risk, and discrepancies so you can correct any problems as soon as possible. FlowIQ provides you with a set of out-of-the-box report templates that can drastically improve these day-to-day processes and now we're giving you an even easier way to gain insights from these reports with the FlowIQ Overview Report.
Streamline troubleshooting and optimization
The FlowIQ Overview Report combines Ad-Juster's traditional Campaign & Creative Pacing Reports as well as our Missing Mapping Report with added insights to save you time on analysis.
In addition to the pacing, revenue at risk, and discrepancy data you are already taking advantage of, this report will also provide you with important information on your campaigns, such as:
If a creative is site-served
If a creative is missing a mapping and what 3rd-party data source needs to be added
If connections for a specific campaign are out of date
If the discrepancy is over 10%
If a campaign does not have associated cost data
If a 3rd-party tag is being used across multiple orders
Get started with the Overview Report
Ready to start taking advantage of the insights in the Overview Report? Navigate to your Reports page in FlowIQ and click on '+ New Report' at the top right of your reports list. Under 'Excel Template Reports' select 'Ad-Juster Overview Report'. This will take you directly into the Report Editor.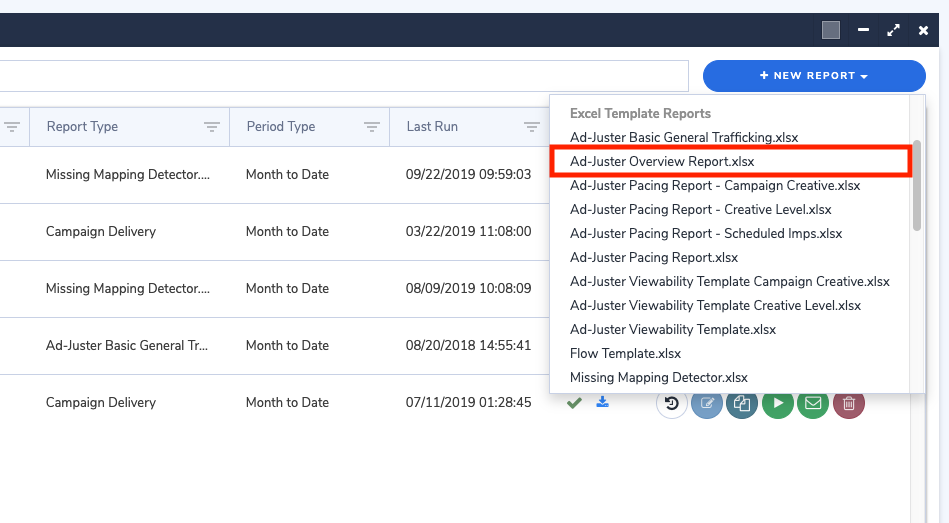 Most publishers using FlowIQ have a large amount of data running through our system. When setting up these reports, it's important to identify the business question(s) you're trying to answer first and remember that more data does not always make a report more useful. We recommend utilizing FlowIQ's report filters to look at your data broken down by a specific dimension, such as advertiser, primary trafficker, or account manager, and schedule your reports to deliver to the appropriate people in your organization on a regular cadence.
---
We added the FlowIQ Overview Report to provide context to the data you're getting from FlowIQ and get you to actionable insights quicker. Have questions or want to learn more? Reach out to your Client Development Manager today!