While remote work is definitely not a new challenge, the scope of this challenge has increased exponentially for many in recent weeks. Companies across the globe are now navigating the impact of the novel coronavirus, COVID-19, on their teams and communities and many are practicing 'social distancing' with fully remote workforces. We're facing the same challenges here at Ad-Juster and understand the importance of ensuring that your team is equipped with the right tools and information to continue to support your business.
Trust and communication are key
This is true in any relationship, business or otherwise, but it can be tricky to maintain if you're used to operating in an office environment. Using a tool like FlowIQ's Campaign Dashboard to collaborate, ad ops teams can easily communicate and keep each other accountable—no matter where each team member is located. A central source of truth ensures visibility into both day-to-day operations as well as important performance metrics.
We've put together a list of ways you can use FlowIQ's built-in collaboration tools to continue to stay connected and effective at work.
1. Collaborate in context with alerts and reminders
It's important to understand the benefits of all of the different communication channels available to you. Do you need to schedule a meeting? Does this warrant an email? A quick note on Slack?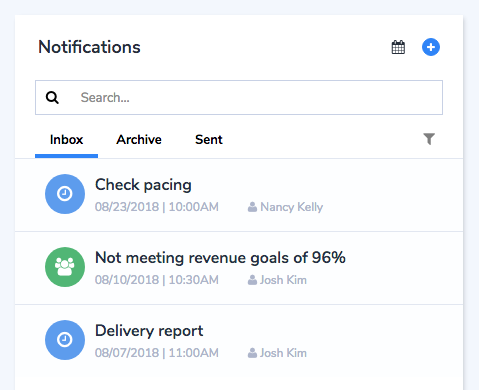 For media teams, FlowIQ's alerts and reminders are a great way to quickly leave a note or reminder on a project, track changes, and communicate with team members all in one place. In addition to notifications that you create, the system will also alert you to changes in your OMS or ad server. All notifications appear as icons on the Daily Delivery Chart for that campaign or line item so you can easily keep track of everything associated with a project and quickly troubleshoot issues.
2. Keep your team on the same page with standardized views
Video conferencing is key to maintaining connection while working remotely, but individual team members will need to make decisions informed by data throughout the day. One obstacle that you might face with remote teams is making sure that when you're not talking with your coworkers, you are all operating off of the same data sets.

The FlowIQ Campaign Dashboard gives everyone in your organization a standardized way to look at your data. This allows for a common language that you can use to easily collaborate with context.
3. Make sure everyone can access the data they need with flexible filtering by role


You're all in the same place, speaking the same language, now you want to find the data that you need to do your job. FlowIQ's role categorization makes this easy and lets each type of user manipulate the data according to their own needs. Equal access to data and an easy view of your campaign performance makes it faster and easier for each team member to get to the nuanced insights they need.

4. Use shareable dashboards and PDF reports to quickly communicate insights
Want an elegant way to send client updates? The FlowIQ Campaign Dashboard gives you the ability to send a pretty PDF of any report right to their inbox. You can also send emailed reports to your teammates or a link to a specific dashboard.

5. Improve morale and transparency with team notifications
Managers, you know how important it is to keep up morale for productivity and engagement. It's even more important to nurture this if your team is used to the buzz of the office and day-to-day interaction with teammates. You'll need to get creative and find new ways to work together and communicate. 'Team Reminders' give you the ability to send a broadcast to your entire team in the Campaign Dashboard.

Tell your team what a good job they've done during this transition! Or give a shoutout to an employee who's successfully juggling shifting advertiser requirements.
---
Regardless of how long we're operating remotely, the value of strengthening our processes and communication will be ongoing. In addition to focusing on keeping up productivity, remember to relax and have fun with your team. At Ad-Juster we're trying some new things like virtual team happy hours to celebrate wins and stay connected. Contact us if you want to share any creative ways your team is handling the transition, we'd love to hear from you!