As your company grows, expands its capabilities, develops new business, and looks to increase efficiencies, you must be strategic about each new step you take. For example, consider your media analytics needs: should you build your own solution with in-house developers or buy a tool or platform from the market to support your growing operations?
Broad discussions have been had on this topic, but the most important factors boil down to:
The type of product needed
Your business' core competencies
Many engineering departments are more than capable of developing their own internal software products and the "our team can build it" mentality may even be coded in a company's DNA. This can make sense for ad hoc applications specific to a single business process, like batching personnel hours across departments to track projects. But much more often companies find themselves left with an unsuitable product that has eaten up too many internal resources and has derailed engineering's focus on more important deliverables.
Digital Advertising is Messy
To start, let's consider the industry where the product will be used. Put simply, digital advertising is complicated and the industry is inconsistent. Conversely, ad reporting is very interdependent: data from a bevy of sources (like SSPs, DSPs, OMSs, local and third party servers, programmatic, header bidding, ad networks… ad infinitum) must be aggregated and organized. This step requires the knowledge of an industry expert to connect the disparate dots before you can begin to design clear and concise reports.
Keeping Pace with Change
This problem is further exacerbated by the industry's rate of evolution. Available data and reporting standards are constantly evolving (e.g. viewability), new technologies are invented (e.g. header bidding), and new advertising channels are introduced to the mix (e.g. mobile, messaging, OTT). This leads to ad-tech vendors developing new products and tools that will need to be integrated into reporting flows. Staying true to character, the industry doesn't have a global standard for data storage or programming language (despite IAB's best efforts). Thus, building a media analytics platform requires full-time support from well-versed developers and industry experts for life of the product.
What Are You Good At?
Now, let's consider your business' core competencies a.k.a. what you're the best at, what makes you unique, your bread and butter. Or, more specifically, if designing, building, and supporting an analytics platform for digital advertising falls in that category. It is thought that flexibility and customization are pros that come with developing in-house, but this misconception is debunked as maintenance and upgrades inevitably turn into a full-time job. Trying new things (and failing) is essential to a business' livelihood, but it can also bring down the overall success of an organization if the system they are trying to build is outside of the company's core competencies.
Estimate a Budget, Then Double It
Psychologically, humans are wired to underestimate the length of time it takes to complete a task (known as the planning fallacy). This trait is apparent in product development, and is especially noticeable in projects outside of a company's normal business activities. Timeline and cost overruns are almost guaranteed in the build scenario. Adops' efficiency drops as they wait for their tool to be built and the company's core projects are left on hold while labor resources are consumed by new product development. The hard cost is not trivial either. From research and analysis done with our clients, we estimate that building a tool costs $960,000 for the first year and $740,000 each subsequent year for most publishers.
There Will Be Growing Pains
It is tough to argue that an in-house solution will be as complete as the market solution. Even if not all features are needed currently, a company has fewer growing pains integrating into existing components than they would building and bolting on new components as needed. The product must develop inline with the industry and be flexible enough to support changing business needs and operations because any change in reporting standards or formats could antiquate an in-house platform overnight. This means you are not relying on the tool, as it is currently built, so much as you are relying on engineering support to keep the tool working.
An Entire Company Supporting You
The biggest advantage in buying over building is that the vendor you partner with focuses all of their company efforts on maintaining, innovating, and optimizing the software to keep up with industry and customer demands. A platform's functionality is enhanced through customer feedback (anticipating your changing business needs rather than reacting to them) which gives the platform more flexibility and adaptability to support your company through re-organization and changing market needs. The platform is designed with industry best practices and standards, and includes expert support and training for future staff with no additional burden on your engineering and IT teams.
Common Problems = Proven Solutions
Discrepancies and difficulties with reporting have plagued the industry since its inception. However, these problems are common which means others have encountered similar obstacles  and, more likely than not, a well-supported and proven solution already exists. Call us biased, but we recommend our Media Analytics Platform, which has been supported since 2007 by a dedicated team of full-time engineers. In that time, we have built and maintained 100+ ad platform connections while navigating API changes, site updates and migrations to new platforms. Our experience allows us to manage the nuances of data collection, which are often ignored by in-house solutions, and tailor our platform to fit your organization's needs. We invite you to chat with us about how we can support your revenue goals.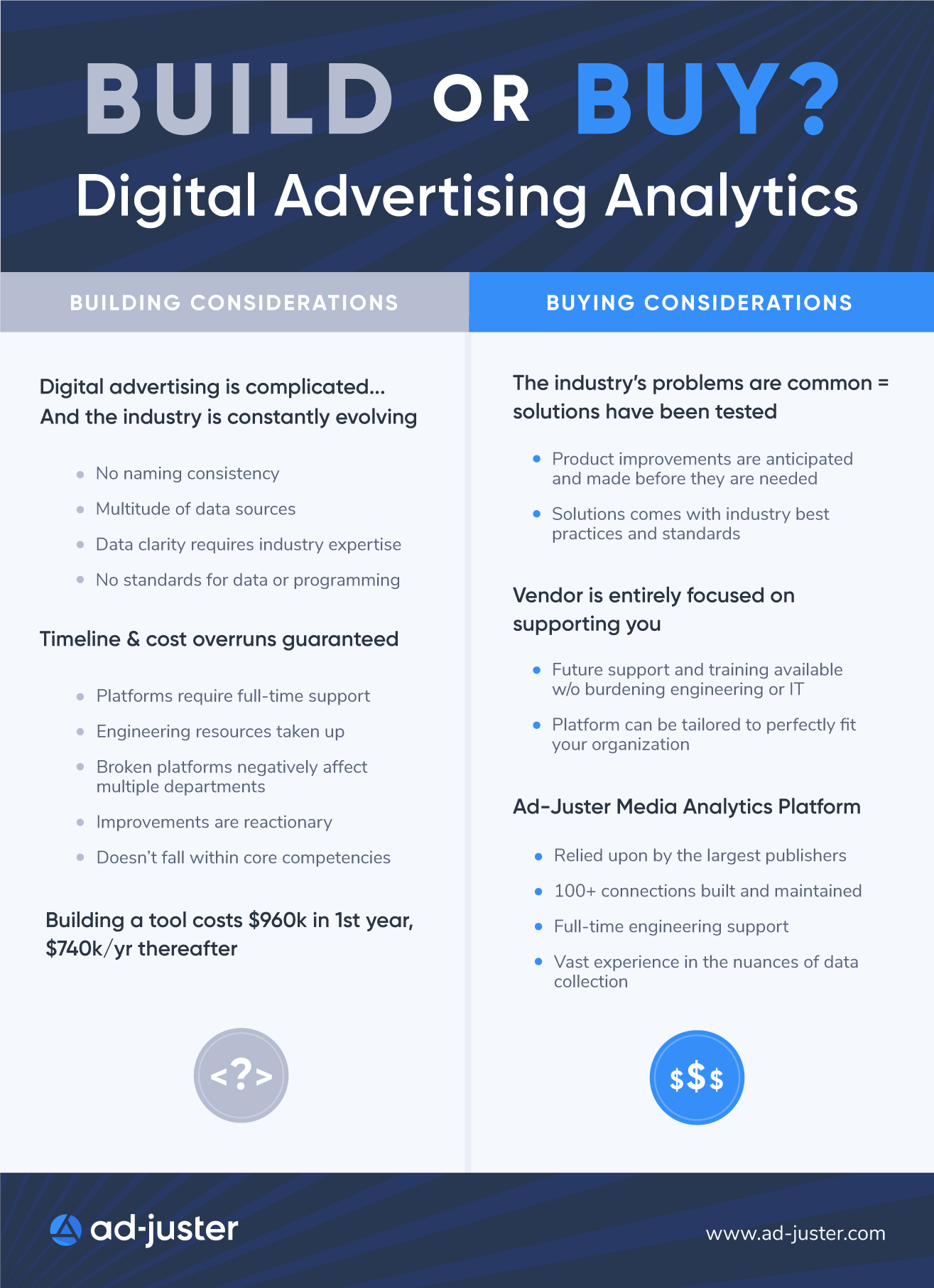 Find a Long-Term Partner
We are especially proud of our 10 years of experience successfully supporting the advertising industry and of the thousands of hours we've invested in developing our platform, Ad-Juster MAP. We are privately owned and 100% of our focus is on supporting and pioneering solutions for the ad industry. Unlike our competitors, we aren't worried about running out of VC funding (we have none). In the volatile world of advertising technology, we are positioned for permanence so that we can offer you proven solutions that are supported for the long-run.